Pitch Critiques Round 1
By: Jessica Faust | Date: Oct 29 2007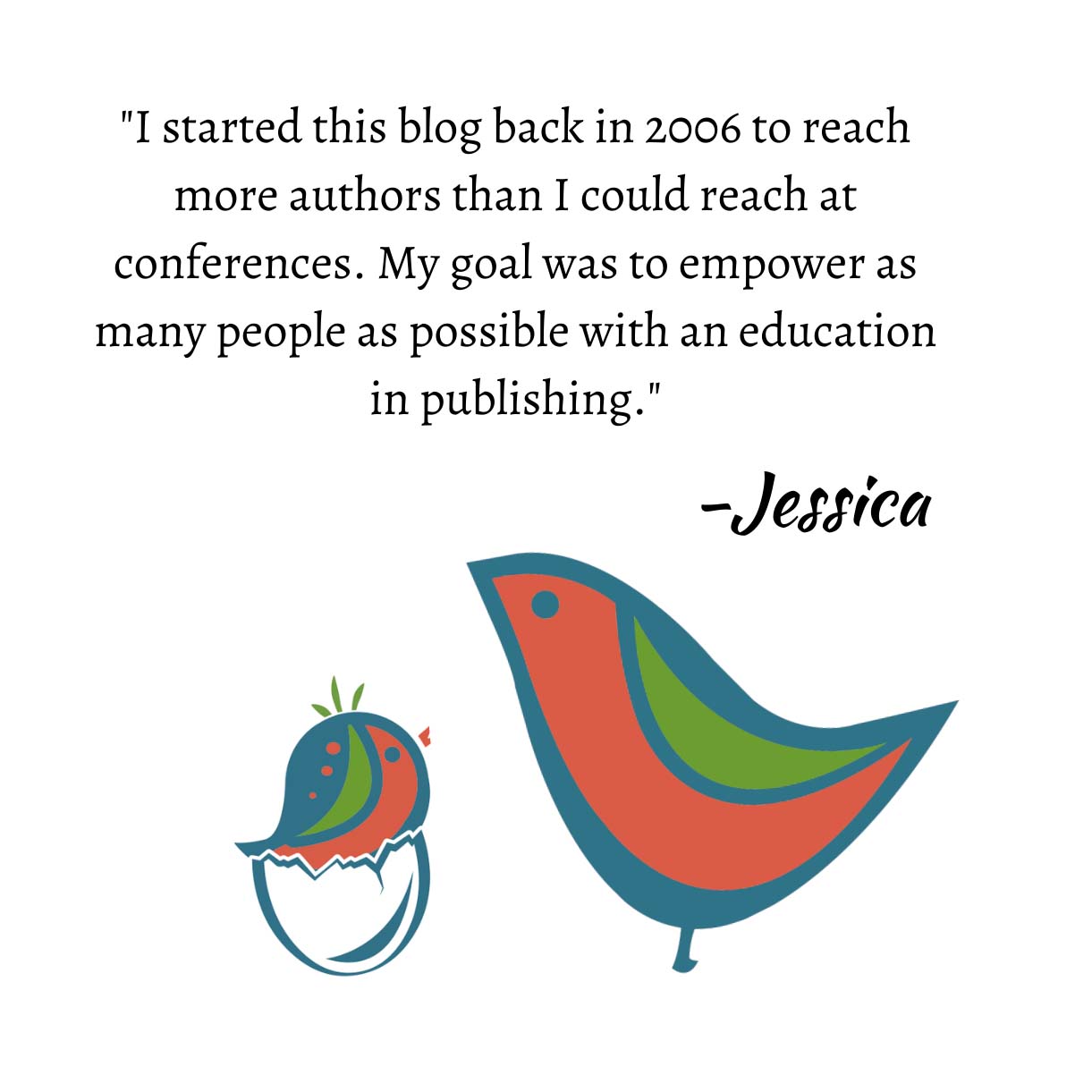 On October 25 I did a workshop of sorts on Perfecting Your Pitch, and if I do say so myself it was a bit of a success. Thank you to everyone brave enough to participate. Over the course of the next several weeks I will go through pitch-by-pitch and give my critique. Feel free to comment and give your own critiques, ask further questions, or just tell us what you thought. This was a lot of fun for me and I might, just might, do it again sometime (if I ever get through this pile).
I also want to give a quick shout-out to reader Mark Terry. Mark did what I think was an amazing blog post about this blog "contest" and really broke down what makes a successful pitch in a way few agents are sometimes able to do. Check it out.
1. diana
My book is a romantic comedy about a big-city girl and a small-town auctioneer who become entangled in a 130-year-old case of murder, identity theft and bodies buried in the wrong graves.
Unfortunately, while intriguing (I like cold cases), not intriguing enough. Essentially your pitch tells me nothing. What is the conflict? Is it that they are solving a mystery? What exactly is the mystery? What makes this book stand out from other romantic comedies or mysteries (your genre choice and description confuse me a little). This might not fit your book at all, but what about something more along the lines of . . . "Cold Case meets Sex in the City when 'Julie' teams up with a small-town auctioneer (is this even important to the story?) to . . ." or "Unearthing a 130-year-old body seems gruesome, but not deadly. Julie is about to find out differently when she becomes entangled in a case of murder." Does that make more sense? I need to know the why more than the who. Why are they solving this case? What's their motivation? What's the threat? And lastly I'm concerned that the tone of your pitch doesn't at all convey the tone of the book. At least I hope it doesn't or you have a real problem with telling instead of showing.
2. anon (David Weisman)
If you've ever wondered why being part of a hive mind should cause people to dress in black, act asexual, and talk in stilted phrases, this book is for you. Major Brett Johnson struggles to satisfy both duty and honor, and learn if the overmind on the planet Oceania is a deadly seductive trap that may snare humanity, or a tool to extend human lifespans and enrich our experience of the human condition.
(I'll only send this to agents who handle science fiction, and assume they've heard of the Borg!)
I'm at a huge disadvantage here since I have no idea what the Borg is. Anyone? My first comment, though, is change your first sentence entirely; "this book is for you" is not going to grab an agent's attention and you might limit yourself if you submit to an agent who really has never wondered why being part of a hive mind would do those things. It sounds like your book is probably a SF thriller. That doesn't come through in the pitch. I would delete the first sentence altogether. It doesn't add to your pitch and, in fact, probably detracts. Instead I would simply work on strengthening sentence number two and keeping that as your entire pitch. I'm hoping you can do a better job than I can (since you know the story), but what about something along the lines of, "Major Brett Johnson is in a struggle for his life, and the lives of all inhabitants of the planet Oceania, while he battles to learn if the overmind is a deadly seductive trap set to ensnare humanity, or a tool to extend human lifespans and enrich the human condition"? I still think though that you need more. From this I don't have a clear understanding of what the story is about. What I see here is something that's similar to every other book. What makes your book different? What else about the conflict makes this stand out?
3. k.r. stewart
Completed fantasy novel "Omn's Tears"
Captain Ryon Addothun is a renegade soldier who refuses to blindly follow orders like he once did.
Kain is a ruthless dragon hunter who cares for no one but himself.
When Ryon and Kain discover an angelic woman from a realm of myth–stripped of her otherworldly powers and held captive by Ryon's superiors–they learn that the Emperor has unwittingly unleashed a disastrous magic that may eventually unravel all of creation. The only way to save the mortal world and the heavenly realm is for the trio to join forces and seek out the mythical remnant of the Creator's power, Omn's Tears.
Too long. Sure it's not going to kill you to write your pitch at this length, it's also not doing you any favors. Remember, you have about two sentences to grab an agent in a query letter and about two minutes in a verbal pitch session. While I suspect you can read this in less than two minutes you lose me pretty quickly. Your most interesting pieces are that you have a renegade soldier and dragon hunter, but after that it's lost. If you're going to mention those things then I would imagine they are both part of the conflict; if not, they probably aren't worth mentioning. Here's the deal. I don't know what this book is really about enough to excite me. I think your real pitch comes after your last sentence. What happens next? That's what I want to know in your pitch. What do they have to go through to save the mortal world? The first sentence of your last paragraph can be cut completely. Do not tell backstory in a pitch. Get to the point from the beginning.
4. Solidus
(One sentence.)
A crippled composer, her overprotective father and an idealistic pharmacologist struggle for several kinds of freedom for themselves and the embittered lunar colonies.
(One paragraph; three sentences.)
Elizabeth Barton has been protected by her father but, when the lunar colonies rebel against corporate domination, reality breaks in. She falls in love with pharmacologist Robert Brown, who is drawn to the power of her music as well as to her personal fragility, but her father believes Robert to be arrogant and reckless, and forbids their relationship. When Greater China sends in the troops to retake the colonies, Elizabeth and her father must work with Robert to prevent the slaughter.
Neither tell me anything about the story and neither sound exciting or different. Do I really care that he's a pharmacologist? Is that why readers might buy the book? What about the fact that she's a crippled composer? I doubt people would pick up the book for that reason alone. It might be what endears them to her and keeps them reading more, but it's not your hook or your pitch. I suspect your hook is what they are all risking by preventing the slaughter and what they go through to get there. The rest is backstory.
5. Leatherdykeuk
Dead Line
Harold Waterman hates corpses and finding three of them in his garden spells the beginning of a bad day. Being assassinated in his pyjamas was the very worst evening he could think of until he discovers that there are worse places to go than Heaven and Hell. It's lucky for him that his best friend is a demon who can pull some strings, if he can only stop being so sarcastic to God.
I like the tone of this and I think it's almost there. The problem is that it's confusing. First of all, who doesn't hate corpses? That seems pretty obvious to me. I also don't get how the assassination connects with the corpses. Are they one and the same? Is it the same day? I think your last line though is terrific. Totally grabbed me, and that would probably push me over the edge to ask to see more. I would suggest though that you tighten your first two sentences some. Could you say something along the lines of, "When Harold Waterman found three corpses buried in his garden he didn't think his day could get any worse, that was until he was assassinated in his pyjamas and learned there are worse places to go than Heaven and Hell…"?
6. Anon 7:19 am
(A paranormal romance)
When Adrianna was young, she cut out her heart and hid it from Death. Three thousand years later, she's forgotten where she put it. She can't die. But she can't love, either.
I'm going to use a lovely sing-songy voice here to say BRILLIANT! This is the best pitch so far (okay it's only the sixth, but it's really brilliant). There is no doubt I would request this without even reading the rest of the letter. Why? It gets to the heart (I know, he-he) of the problem. We have a heroine who has lost her heart and is searching for it, and not in the traditional way of, My heart turned to ice because of some loser I was once married to. No, she physically lost her heart. How cool is that? I get that it's paranormal without you even telling me and I know what your character's conflict is. In fact, I think I even have a feeling for who your character is based on. Really, really good. I hope the partial is headed my way. . . .
And that's it for today. Great work to the first six brave enough to enter. Keep an eye out for the next group.
Jessica